Full format partition recovery software to recover files from full format partitions of external hard drive, sd card,flash drive,etc.It supports exfat fat32 ntfs (raw) partition on PC Windows 7/8/8.1/XP/Vista.
When full format partitions, there are still chances to recover files after full format.
Use "Unformat" to recover files after Full format partition.
Use "Recover partition" to recover data after Full format partition – if partition has changed.
Use "Full scan" to recover files after Full format partition external hard drive – if "Unformat" and "Recover partition" can not find lost files.
Use "Undelete" mode to retrieve deleted files after Full format partition.
Partition full formatting is the process of preparing a partition such as a hard disk drive, solid-state drive, floppy disk or USB flash drive for initial use. In some cases, the formatting operation may also create one or more new file systems. The first part of the formatting process that performs basic medium preparation is often referred to as "low-level formatting". Partitioning is the common term for the second part of the process, making the data storage device visible to an operating system. The third part of the process, usually termed "high-level formatting" most often refers to the process of generating a new file system. In some operating systems all or parts of these three processes can be combined or repeated at different levels and the term "format" is understood to mean an operation in which a new disk medium is fully prepared to store files.
Aidfile Recovery Software Keyfeature
support FAT32 EXFAT NTFS RAW Unformatted file system
Windows XP, Windows 7, Windows 8,Windows 8.1, Windows 10,Windows Vista, Windows 2003, 2008, 2012.
Support WD, Samsung, Sandisk, Toshiba, Seagate, HP, Lenovo,Maxtor,Accessory Power,Apple,Apricorn,BIPRA,BIRUGEAR,Buffalo,Clickfree,Co2Crea,Corsair,Dell,DIGISTOR,digital family,DODOCOOL,DragonPad,Expansion Plus,EZOPower,Fantom,G-Technology,Glyph,HGST,ioSafe,Kingston,LaCie,LYVE,Micronet,NewerTech,OCZ STORAGE SOLUTIONS,Oyen Digital,PNY,PROMISE TECHNOLOGY,Protronix,PWR+,RAVPower,rooCASE,Silicon Power,Sony,StarTech,Storite,Thermaltake,Transcend,Ubiquiti,Vantec,WESA9,etc.
MS Office document (Word, Excel, PowerPoint, Outlook) types (doc, docx, ppt, pptx, xls, xlsx, pst, etc.),photos (JPG, PNG, ICON, TIF, BMP, RAF, CR2, etc.), videos and audios (MPG, MP4, MP3, MTS, M2TS, 3GP, AVI, MOV, RM, RMVB, etc.), compressed files (rar, zip, etc.), PE files (exe, dll, lib, etc.) and so on.
Full format partition recovery
1. Select the "Unformat" button .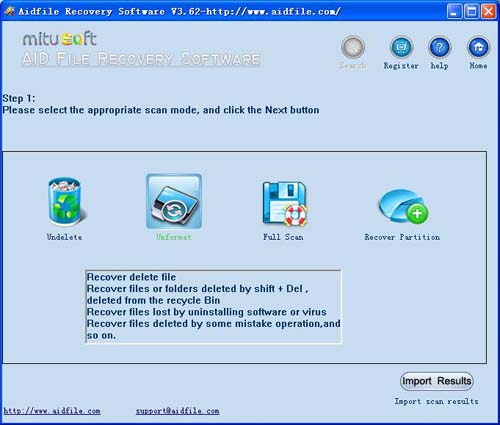 2. Select the drive, then click the "NEXT" button.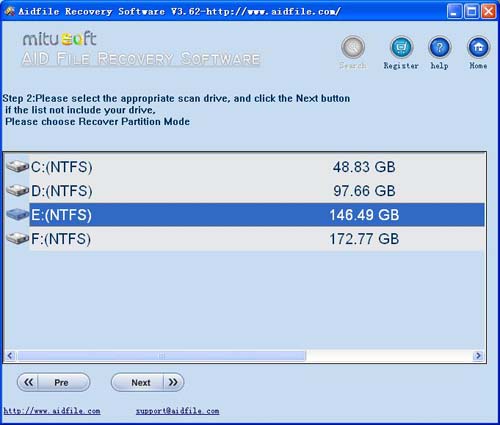 3. Set the format recovery properties .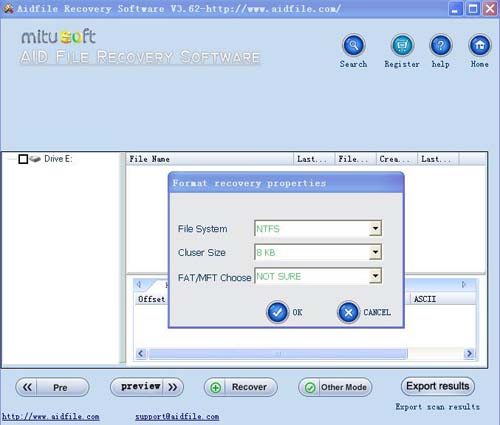 4. Select the want to recover files .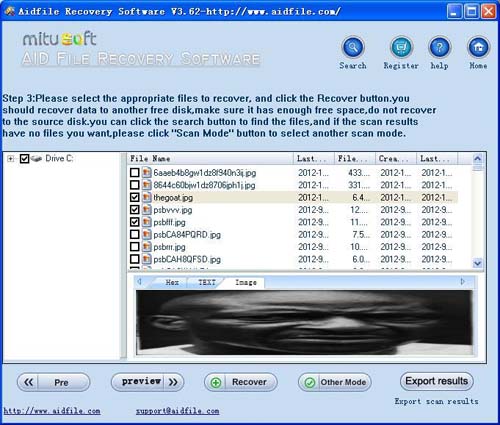 5. Recover successful ,